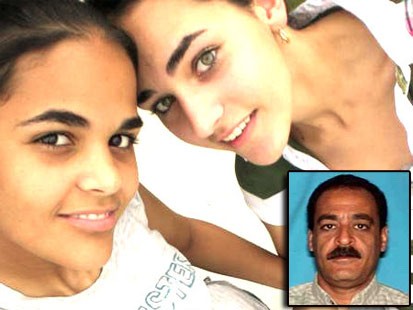 'Honor Killing' Motive for Slain Sisters?
It's been one week since two teen sisters were found shot to death inside a cab outside a Texas hotel, and their father, who police say is the sole suspect in the New Year's Day killings, remains at large. . .


Before the funeral Saturday, Patricia Said made a public appeal for her husband to turn himself in. "We will not quit until we find you," she said. "If it's the last thing I do, I promise, I will find you."

The couple's son... spoke to the media, saying that his father had "messed everything up" by murdering his sisters, who have been described as popular students at Lewisville High School and inseparable siblings.

At the vigil Thursday,

Islam Said also tried to squash rumors that the family's Muslim heritage may have had something to do with his sisters' murders.

"Religion has nothing to do with this and it was very wrong," Islam Said said, according to the Star-Telegram in Texas. "Islam is not a bad religion."

Still, the case has generated significant speculation — including by some friends of the girls — that the father's motive may have been some sort of an "honor killing" in the Muslim tradition. Specifically, the reported Westernized behavior of the teens, including the boys they dated, may have brought shame to a father said to be strict and religious, prompting the killings.
There are several things that prompt me to believe that this is an honor killing:
First of all, both sisters were murdered. There doesn't seem to be any indication that this murder was a robbery gone wrong.
Secondly, the father who happens to be the prime suspect has gone missing since the murder.
Next, the slain's brother admitted that his father "messed everything up" by murdering his sisters.
Lastly, the family's Muslim heritage cannot be forgotten. After all, honor killings aren't associated with Zoroastrianism.
I hope and pray that the police are able to find and capture the father so that they can ascertain the motives of the killing. However, if the father is found to be guilty of murdering his daughter in an honor killing he needs to be punished to the fullest extent of the law.
We cannot tolerate murder under the guise of cultural differences.